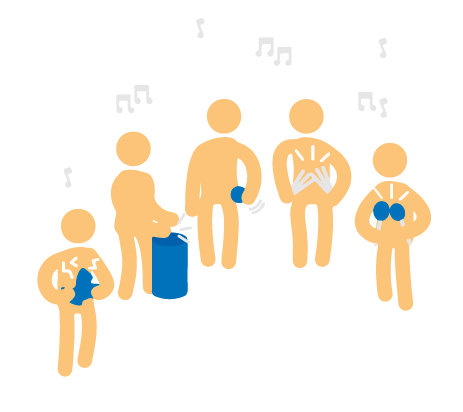 Materials:
All types of materials e.g. bin bags, chalk, dust pan, wooden spoon, bunch of keys etc. (students might have their own instruments from home).
Instructions:
The students stand in a circle with their own instruments that can create sounds that create a strong beat (stump). The main rhythm is in a 4-4 beat (which sounds like 1-2-3-4, 1-2-3-4 etc.). In the start the students hit their instruments on each beat (1-2-3-4). Then the students only hit their instruments on beat number 1, whilst beats 2-3-4 are counted. When the students can do this different rhythms with different instruments can be added to contribute different sounds to the sound score. E.g. one group hit on beat number 3, another hit on beat 2 and 4 and yet another group hit on every beat etc.
When the students have got some experience with different stump rhythms they can make up an experiment with their own new rhythms in smaller groups. Working with stump could incorporate small stories and theatre performances which the students create. Stump can also be used as a creative sound score to a poem or fairy tale that is read out.
Variation:
Students can collect sticks, cones, leaves etc. in the natural surroundings which can later be used as instruments in 'nature/stump'.